For patients who require 24-hour a day monitoring and care during brain injury or stroke rehabilitation, our transitional living/inpatient program provides a comfortable, protective environment during treatment. The inpatient program can be very helpful to families who are not able to care full time for their loved one.
Inpatients receive round the clock assistance to support them through all stages of recovery and our centers handle all kinds of disabilities. Our residents enjoy healthy meals, activities and staff and peer encouragement.
Pate's inpatient program focuses on each person's unique prognosis and includes personalized rehabilitation plans in cognitive and communication issues, physical functioning, daily living activities and routines, leisure activities, behavior management and more.
Living with us during brain injury or stroke treatment is an immersive experience that means rehabilitation never stops. It gives people comprehensive care, with ongoing observation by staff to assess progress around the clock and helps our residents get the most from rehabilitation. Patients who are physically capable of maximum rehab time will receive up to six hours of therapy a day.
Our cross disciplinary approach is designed to return people to their communities. Not just any community - but the patient's specific environment. We prepare people for the real world that they will return to. By talking with the patient and family about needs and goals, Pate therapists focus on the right things. For example, is the house two stories? Then the individual will work on stairs skills while someone who lives on one level may need help with high kitchen cabinets. This individualized preparation can be invaluable.
Treatments include:
Patients eat breakfast then travel by Pate van to the treatment center where they receive treatment Monday through Friday from 9:00 a.m. to 3:30 p.m with a break for lunch. Each patient who lives with us will receive treatment customized to their diagnosis and will rotate therapies throughout the day.
Patients return to the residence after treatment then have free time before dinner. Evenings feature group activities, family visits or patients may just feel like watching TV in their room. Living in a community during rehabilitation provides many benefits.
Friendships between patients offer support and understanding - they know what the other is going through.  Social interaction is invaluable during treatment and offers practice in social skills as well as companionship.
Supervised group activities offer therapeutic benefits beyond entertainment. Healthy dietitian designed meals and regular bedtime offer structure. Most of all, the patient is always observed. Rehab technicians see a different side of patients and can see where people may have difficulties that are not obvious. They will relay that information to the treatment team who can modify the treatment plan based on feedback.
Who will care for you or your loved one? The residences are staffed 24-hours a day, including therapists and rehab technicians, and on-call nurse. Trained staff manage medications, assist patients in their daily routines and ensure their safety.
They are there to encourage, support and are invested in making your rehabilitation the most positive experience it can be. The residences are typically small, between 10 – 22 beds, and this size allows for a lot of personal attention.
A long-term care ombudsman helps residents of an assisted living facility resolve complaints. Help provided by an ombudsman is confidential and free of charge. To speak with an ombudsman, a person may call the toll-free number 1-800-252-2412 or email [email protected].
Pate's transitional living centers are designed to continue rehabilitation during off-hours with targeted activities. The residence staff can observe patients throughout the day and this provides valuable feedback to the clinicians at our centers.  The residences are typically small, between 10 - 22 beds, and this size allows for a lot of personal attention.
Located in Irving, Fort Worth and a real Texas ranch north of McKinney, our living centers are very attractive, updated, and offer a variety of room styles including semi-private, private and apartment-style spaces with kitchenettes. Shared great rooms offer flat screen televisions, computer access and space to relax and enjoy family visits.
Interested in learning more? Contact us today.  For more answers, view our FAQ.
WHAT'S IT LIKE AT PATE?
MEET DARLENE
We sat down to talk about what it's like at Pate's inpatient facilities and the benefits of living at Pate during rehabilitation.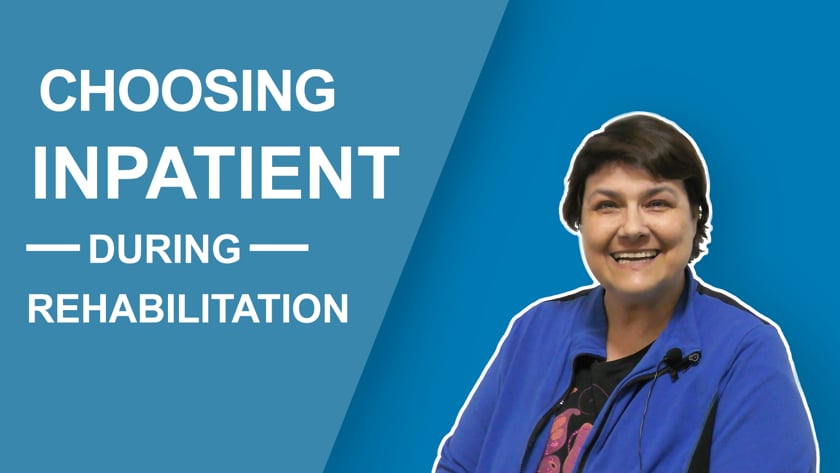 WHAT PEOPLE SAY ABOUT PATE REHAB
Inpatient Testimonials
Deborah Marrh
Person Served