We applaud the incredible courage and fortitude of our patients. These TBI and stroke success stories of determination, grit, and success are all unique—just like our patients. Watch real life video from former patients and read what others say about their brain injury journey and road to recovery while at Pate Rehabilitation. There is, indeed, hope. TBI and stroke success stories prove it.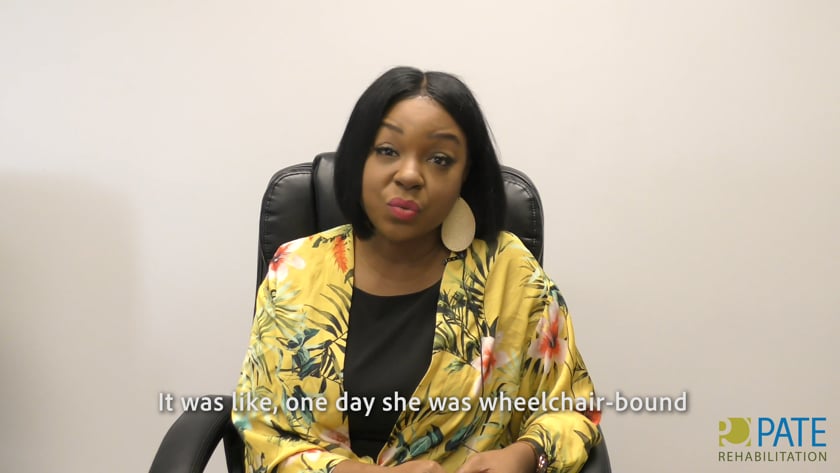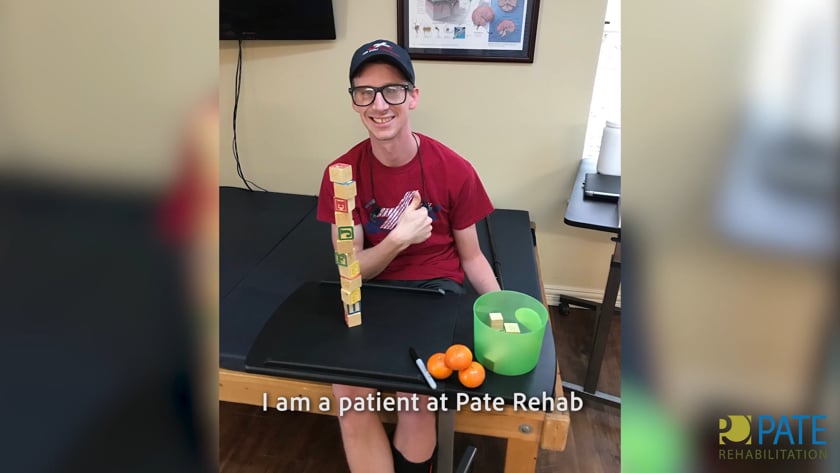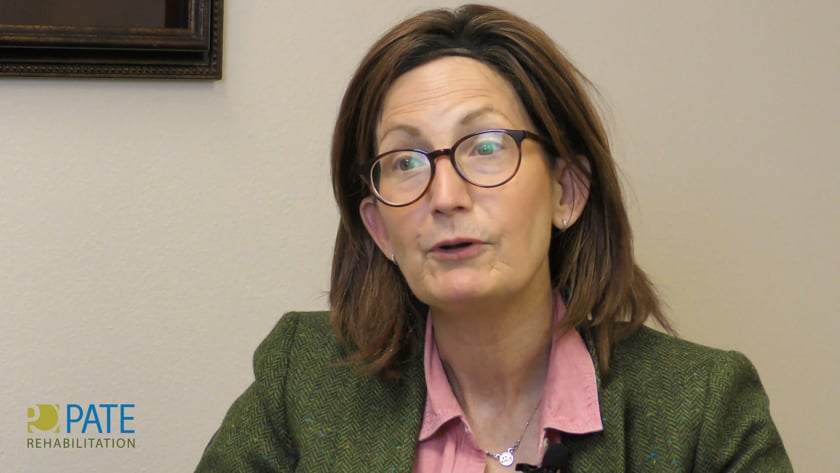 Click here to skip to recent comments from real patients and families on Pate
Johnny V.,
Avionics Technician, Former Pate patient
During a surgery to remove a brain arteriovenous malformation (AVM), Johnny experienced a traumatic brain injury (TBI) that left him with memory deficits, the inability to move his left hand, and balance issues. He chose Pate Rehabilitation because of the neuro program partnered with occupational therapy, which was important because he wanted to get back to work as soon as possible.
In order to help Johnny reach his goal of returning to work, the team went to his workplace and collected the tools he would need to use on a daily basis in order to incorporate them into his therapy.
Despite the times that it seemed there was no improvement, Johnny says he kept working and fighting to do as much as he could on his own. His desire to get back to his life, along with the love and support of his family, helped him persevere and meet all of his goals.
"I couldn't have done it without the team at Pate. They were kind and comforting even when things were challenging and frustrating."
Johnny's advice for new patients
"Work and continue to work even on your own at home. Don't let your fear distract you from your therapy."
Nia K.,
IT Project Manager/Business Analyst, Former Pate patient
While sleeping one evening, Nia experienced a stroke that left her with paralysis in her face and arm. She was unable to talk  when she admitted to Pate, not even make sounds. Her Pate therapist worked with her on sounds and  enunciation, and celebrated with Nia as she began to say words and form small sentences.
Nia found that doing the extra work at home and not quitting even when she reached a wall was what made the difference for her recovery and accomplishing her goals. With a deep sense of faith and purpose, Nia and her husband, Jasen, found a way to overcome any obstacle set in their path.
"The support from the Pate team and other patients was everything to me. I have met people at Pate who have impacted my life and I view it as a blessing. I see this not as a disability, but an opportunity that was put before me."
Nia's advice to new patients

"You must have an open mind and know the progress will come if you work at it. There are no guarantees, but give your all and you will be surprised by your progress. We are all put here for a purpose whether we understand it or not."
More Pate Patient Stories
Jack
One day, Jack suffered a stroke that affected the right frontal lobe of his brain. Once he was medically stable, Jack's doctors decided he was ready to leave the hospital to begin rehab at Pate.
When he first started rehab, Jack could carry on slow, normal conversations, but he would often say inappropriate comments to women. At the same time, although Jack was fully capable, he would also refuse almost all physical activities, including daily showers and attending meals.
To those with an untrained eye, Jack's lack of physical activity was mistaken as laziness. However, Jack's neuropsychologist immediately began to suspect that his unfiltered comments and, what appeared to be a lack of motivation, were both results of his brain injury. She believed Jack wanted to do all the right things, and that he wanted to take care of himself, but couldn't because a crucial part of his brain was affected.
Jack's therapists and neuropsychologist helped him regain his ability to perform these functions. At first, his therapists had to physically touch the body part he needed to begin an activity.
For example, when the staff would tell him that it was time to brush his teeth, they would hand him the toothbrush and touch his elbow to help him get started. Over time, Jack needed fewer cues and eventually needed none at all. He could once again begin his daily activities on his own.
Jack's neuropsychologist also worked with his team to help him "filter" his inappropriate comments. This learning was accomplished by Jack identifying a nonverbal gesture staff could use to let him know what he said wasn't appropriate, while being respectful and not embarrassing him in front of people. In private, therapists would review the inappropriate comment with him and practice better ways to say what he was thinking.
After about four months of determination and dedicated work with his treatment team, Jack made significant strides in his rehabilitation journey. He improved enough to go home with his wife, was able to personally take care of his basic needs, and eventually obtain employment.
Jack's story is a shining example of the importance of a neuropsychologist in brain injury rehabilitation. Without a neuropsychologist as a member of his team, Jack's story may have been dramatically different and it is likely that he may not have progressed to his current level of independence and command of social skills.
---
Rocky
Rocky suffered a severe brain injury when his motorcycle wrecked into some escaped livestock standing on the road.
After the accident, Rocky was diagnosed with "diffuse axonal injury," which means the axons (long parts of his brain cells) all over his brain were damaged and couldn't communicate well with each other – and he was in need of intense brain injury rehabilitation.
When Rocky came out of his coma, his therapists in the hospital taught him how to perform everyday skills, such as walking, talking, and feeding himself. Rocky also began to learn basic information about his brain injury and his orientation in society, such as his name and his current location. To do this, his therapists would ask him the same questions, in a quiet therapy room, every day, such as:
"What is your name?"
"What is today's date?"
"What city are you in right now?"
"Why are you in the hospital?"
With daily repetition of these questions in the same room, Rocky started to learn how to answer these questions correctly. Because he was functioning better physically, Rocky's doctors said he was ready to leave the hospital and begin his next phase of treatment at Pate Rehab.
When Rocky arrived at Pate, his therapists noticed some strange behaviors and inconsistencies in his ability to talk about the date and where he was located. His therapists reported this to Rocky's neuropsychologist. Rocky could answer all the orientation questions correctly inside a quiet therapy room, but when he was in a different setting he was no longer oriented to location and why he was there.
For example, when walking outside and his therapist asked where he was, Rocky started to walk away from Pate property to go "home" which, he believed was "just over the hill." Rocky would say he was in Anna, Texas, but at the same time he was sure his own home was "just over the hill." In reality, "just over the hill" was miles away in another town. Rocky's neuropsychologist was able to describe this condition as "reduplicative paramnesia," a condition which causes Rocky to believe that his home was "duplicated" and existed in two places at the same time.
Rocky's repeated attempts to leave the Pate campus were his brain's way of trying to make sense of where he was and what was happening to him. In a quiet room, Rocky could say where he was and what happened to him, but when distractions increased and he saw outside landmarks, he could not figure out where he truly was. This made it unsafe for Rocky when he would go outside.
With the help of Rocky's neuropsychologist on the treatment team and awareness of his "reduplicative paramnesia," they were able to develop ways to help Rocky overcome this condition. The diagnosis also allowed the team to provide education to his family on how to transition him home safely.
Within a month, Rocky was more oriented and his behavior dramatically improved. He no longer tried to unsafely leave the campus, and he was able to discharge home with his parents and continue to help raise his children.
---
Tish
Tish, a successful makeup artist, one day contracted a severe infection which ultimately spread to her brain, leaving her with a brain injury. On the day of admission to Pate Rehabilitation, her therapists recognized that Tish had trouble with visual memory - a fairly common problem after a brain injury.
But her visual memory issue turned out to be much more complex – Tish's therapist and neuropsychologist quickly realized that Tish wasn't able to recognize faces, even those of her husband and child.
Although, as a professional makeup artist, she was trained to be able to identify facial features, her brain injury now prevented this; because she could no longer recognize facial features, a disorder known as "prosopagnosia," she could no longer recognize her friends, family and clients.
Tish's neuropsychologist and therapists discovered a way to help Tish learn how to remember people again. First, Tish learned how to tell whether or not a person was a staff member by looking for staff name badges. She then studied staff photos of her therapy team and was taught how to write down identifying features next to the photos.
For example, Tish noted that her therapist, Lisa, was "short and had her hair in a ponytail." This practice extended to the rest of her therapy team, and with repeated practice and support, Tish learned how to focus on other identifying features such as hair style, perfume, height, etc., to quickly recognize people.
In an effort to help her quickly recognize her son, she learned how to remember all the clothing in which she had dressed her son for daycare. Tish even learned to identify her clients without facial recognition, and many of her clients are still unaware that Tish does not recognize them by their faces alone.
Even though Tish was devastated at her initial diagnosis of prosopagnosia, her treatment team helped her through the emotional reactions so she could successfully beat the odds and return to work as a makeup artist.
Recent Feedback from Patients and Families
Pate is honored to be part of our patients' brain injury recovery stories. We do follow-up surveys every month to make sure we're doing our best for patients and their families by asking for feedback to help us continually improve. We update this page monthly with the latest comments to help you assess the brain injury rehab experience your loved one might expect.
October 2020
"I want to give a big thank you the entire PT staff." -Family member
September 2020
"Great job everyone!" -Former patient
"Great PT Techs and relevant activities. OT and ST did exactly what I asked for help with" -Former patient
"Helped me learn to walk and everyone was very kind to me" -Former patient
"Taught me how to walk again. Had puzzles which I like." -Former patient
"Helped me improve my speech and they really took time out to help me with speech" -Former patient
"Excellent therapists and transportation was a blessing to have as an option" -Former patient
"Communication" -Former patient
"Pate helped me to gain my confidence with their knowledge and professionalism! The respect level was exceptional!" -Former patient
"Communication, willing to help" -Former patient
"Treated me well, very helpful" -Former patient
"Very friendly and understanding" -Former patient
"The quality of the staff were VERY commendable ESPECIALLY MANDY AND ERIN (Speech Therapist)" -Former patient
"OT and restore brain function" -Former patient
"Transportation and Occupational Therapy" -Former patient
"Physical therapy and Speech therapy" -Former patient
August 2020
"We truly thank you for giving us this blessing. Thank you for not giving up on her. Without all of you, she would not have come so far on the road back." -Family member
"Treatment and getting along with patients making them feel welcome" -Former patient
"Got my brother able to function in the real world. Communication with the family. Jan kept us informed about everything. All the staff were wonderful." -Family member
"Progress and communication" -Former patient
"Communicate and prepared" -Former patient
July 2020
"Help me get back to where I was before. Push me to my limits" -Former patient
"Helped me. Kept me informed." -Former patient
"Rehab and treatment went very well." -Former patient
"Communication and treatment. They did everything very Well." -Former patient
"They helped me improve my memory and get better at doing everyday things." -Former patient
"Dr. Perna's insight was very valuable and Therapists personal engagement" -Former patient
"Kept to schedule/ made activities fun" -Former patient
"Frequently asked how things were going at home and specific things I might be having trouble with so my therapies could be more fine tuned to help me. Communication with therapy team is very good. When program was 6 hours long, I liked the schedule and moving back and forth between therapies. Schedule also adjusted when I needed more of one thing and less of another. Or needed a rest break etc." -Former patient
"Memory and thinking" -Former patient
"Scheduling and individual care" -Former patient
"Evaluated me well and prescribed therapies were good for me" -Former patient
June 2020
"I very much so miss everyone there. All my therapists treated me like I was there family." "I am now able to work full time and live on my own because of what Pate did for me." -Former patient
"Very good at communcating very well. Made friends." -Former patient
"Speech therapy and occupational therapy" -Former patient
"Everyone that worked with (him) was so nice, patient, and very helpful. They were very good at keeping us informed and helping us understand his progress and how to continue that progress when he returned home." -Family member
"Great personal attention to individuals receiving therapy. Organization and cleanliness of facility" -Former patient
May 2020
"My therapist were on board with what we needed to get done and challenged me to get there. They also allowed me to be part of the training program." -Former patient
"Communication and support" -Former patient
"Therapy and weekend moral activities" -Former patient
"Food" -Former patient
"Getting the outpatient resources to me in a timely manner" -Former patient
"Speaking with me" -Former patient Family member
April 2020
"Thank you for all that you have done for him, he was very fortunate to have the adjustment from inpatient to outpatient. This was a great program for him." -Family member
"Enhanced my speech, memory, my legs, education on my brain injury, and core strength" -Former patient
"Meeting patients needs through assessments and adapting to the patients levels of progress. When a hurdle was hit they were very quick to find a quick solution so forward momentum would continue. They broke down barriers while pushing you to your potential with encouragement along the way." -Former patient
"Kept me informed" -Former patient
"Workouts. Organize classes" -Former patient
"Travel- when allowed" -Former patient
March 2020
"Kindness and completely changed my life." -Former patient
"The professionalism and courtesy of Pate Staff and Administration is exceptionally amazing. Staff and Admin always communicated their plans and strategies for me frequently and timely." -Former patient
"Treated me well and provided excellent help and advice" -Former patient
"Accommodate to my needs and making Rehab an enjoyable experience." -Former patient
"Work(ed) on my communication, and helped me get a job!." -Former patient
"Team work the Therapist Jessica ;Allison;Gale;Linda;Paulina all the therapists do a great job!" -Former patient
"All the therapies were fun and helpful." -Former patient
"Everyone knows everyone's name and felt like you were part of the group. Martha went above and beyond and helped with things like Those when she didn't have to." -Former patient
"Very engaged and attentive to patient needs and wants push you to be better" -Former patient
"Informative and patient" -Former patient
February 2020
"Consistency & pt is wonderful" -Former patient
"Therapy and time management" -Former patient
"They provided great services that helped me through the day with problem solving and maintaining time" -Former patient
January 2020
"Structured schedules enabling patient to perform daily life activities. Provided support and patience with patients" -Former patient
"Exercise walking getting me ready to return to work. ST. OT. PT" -Former patient
"Very good communication with the patient. Interactivity amongst OT, PT, and Speech" -Former patient
"Walking and memory" -Former patient
"The staff were all committed and engage with patients" -Former patient
"Kind and helpful" -Former patient
"ST, OT, PT very successful and helpful thanks again" -Former patient
"Explained my answers in a way that was caring, professional and unique. It helped me grow and adapt with time as my therapy evolved" -Former patient
December 2019
"I thought I was in heaven. Everything was great. They were exceptional. They even made sure i ate when I forgot my food." -Former patient
"The care at the residence was great, very caring staff" -Former patient
"Keep me informed of my improvement. Very understanding when difference of schedules came" -Former patient
"I was treated great." -Former patient
"Tailoring to a program with goals that met the needs of our daughter.
Therapists working together to make sure that our daughter was receiving necessary challenges to further her progress." -Family member
"They helped me walk and helped me with self confidence and daily coping skills" -Former patient
"They helped me walk and helped me with self confidence and daily coping skills" -Former patient
"Everything was above & beyond expectations." -Former patient
"Kept track of my progress and challenging me to progress" -Former patient
November 2019
"I felt like everyone was truly interested in his improvement. They all really cared about his progress. They were always available if I had questions." -Family member
"Listened to my problems" -Former patient
"Very friendly and helpful. Everyone is so very nice. Personalized needs/therapies for the patient were awesome" -Former patient
"Helped me build my endurance up.
Gave me the q when needed to straighten up tall" -Former patient
"Took my goals and needs into full consideration in developing the treatment plan and goals" -Former patient
"Transportation was very good. I loved how they picked her up, dropped her off, and took her to appointments. They taught her how to communicate again after her stroke and really helped her come back from that. I am very satisfied with Pate and everything they did for her." -Family member
October 2019
"My husband and especially myself cannot express enough how much you have helped us get through all that we have experienced these past few months at Pate. Through some disappointments it was you who always took care of any situation that arose, and always with a wonderful attitude. You are truly a huge asset to Pate and I hope they are appreciating your professionalism and your one on one personal kindness with each guest and their families that walk through those doors. You make being at Pate worth the hours spent there. Never was there a time when you could not accomplish a task asked of you and I have asked many… dealing with our insurance, medical documents, transportation, and other issues. There are many people who have crossed our paths but only a few who have left an imprint on our hearts. I hope we meet up someday soon. May God continue to bless you and your family. As you continue serving in this field, always remember that you have been appreciated more then you realize. Just two small words to express our gratitude. Mahalo and Aloha." -Family member
"I want to give a big thank you the entire PT staff." -Family member
"We cannot thank you enough for all your help with the insurance, and all the other tasks that you have handled." -Family member
"I'm very happy at Pate. Pate has returned happiness to my life" -Former patient
"THANKS FOR WHAT YOU DO!!!" -Former patient
"They became not only therapists, but caring friends. To tell you the truth I did not want to leave." -Former patient
"Helped me with regaining my confidence and independence. The staff is awesome." -Former patient
"(Pate) individualized the program for my needs (and they) observed and recognized my strengths and challenged my weaknesses." -Former patient
"Very good caseworker" -Former patient
"Transportation services were great at making sure she made it to therapy. They therapy team was great at encouraging her to push herself and help her make the gains she did." -Former patient
"Understanding challenges he faced. Applying treatment to heal those deficits and challenges." -Family member
"They provided state-of-the-art treatment and up-to-date medical information on a regular basis." -Former patient
"They kept me abreast of what was going on step by step and made sure I knew the processes and procedures of all scheduled activities." -Former patient
"Everything is great" -Former patient
"Satisfied with everything. The treatment, the staff, the facility" -Former patient
"Staff (is) respectful" -Former patient
"They did a really good job. I am living proof of their work. I am back to my life with no impairments. My neurologist was surprised by the recovery I made and said I am part of about 1 percent." -Former patient
September 2019
"Great job everyone!" -Former patient
"Taught me how to get in and out of bed Helped me start walking" -Former patient
"Always showed dignity and respect. Staff showed amazing patience." -Former patient
"Expert therapists. Informs the patient of their progress" -Former patient
"Always had smile on their face" -Former patient
"Mental and physical support during recovery. Support group were easy to work with and always communicated progress with patient and family. He's come a long way." -Family member
August 2019
"We truly thank you for giving us this blessing. Thank you for not giving up on her. Without all of you, she would not have come so far on the road back." -Family member
"Love all the staff at West! They are all very helpful!" -Family member
"The staff at the house is so bubbly and cheerful. They go way above and beyond to make sure my son has everything he needs." -Family member
June 2019
"I very much so miss everyone there. All my therapists treated me like I was there family." "I am now able to work full time and live on my own because of what Pate did for me." -Former patient
"We are all doing well living at home, thanks to your program. Pate did more for my son in 18 months than 3 other programs did in 18 years. We are eternally grateful for Melodee, she was so good to me and my son for 2 years. I knew he was loved and taken care of at West Campus. Your program is awesome" -Family member
"Listened to me and what I wanted Pushed me to do better" -Former patient
"Helped me be able to accept what I'm not able to do right now." -Former patient
"Courteous and professional" -Former patient
"Communicate with people. Services were excellent." -Former patient
"Helped alleviate anxiety and negativity about my condition -great therapy staff" -Former patient
"This group understands the issues we, as brain-injured clients, have. This is exceptionally difficult to find. Your patience was wonderful." -Former patient
"One on one training and personal attention support patients through rehabilitation" -Former patient
"The therapist are very encouraging and great to work with." -Former patient
May 2019
"The classes were good. All the people were great." -Former patient
"I hope to take the skills and strategies I have learned and continue to improve!! THANK YOU!" -Former patient
"Cared for patient as one of your relatives" -Former patient
"They were very thorough with the treatment plan and communicating with us." -Former patient
"Opens to your goals not theirs or others" -Former patient
"Making everything enjoyable" -Former patient
"They helped watch everything I needed to get better. They all worked together to provide all different types of training to help me succeed." -Former patient
"The rehab was great, and the people were nice." -Former patient
"Helping me set small goals within long term goals, and understanding needs, And respecting decisions." -Former patient
"The therapists did excellent job as did the Case Manager Loved aquatics!" -Former patient
"Comforting and encouraging environment" -Former patient
"Very good at answering questions and communicating objectives." -Former patient
"The therapists were the best!" -Former patient
April 2019
"They administered my medications on time no matter where I was on or off the facility. My case manager helped me manage my chart appointments and e-mails and helped me get sensitive documents back and forth to my adjuster with ease." -Former patient
"Thank you for all that you have done for him, he was very fortunate to have the adjustment from inpatient to outpatient. This was a great program for him." -Family member
"Everyone truly cares about the patients, their well being, and their recovery. All departments are extremely helpful, knowledgeable, and everyone is accessible. Transportation to appointments was extremely helpful." -Former patient
"They provided us with transportation, and their nursing staff was very good at taking care of the patients." -Former patient
"Pate was very affective at communicating with me as to what was going on with my husbands care. The monthly family progress meetings were great! His therapists and staff were very helpful and always available to answer any questions we had." -Former patient
"Created a rehab program that addressed me and my needs. Communicated my process from start to finish and moving forward very well." -Former patient
"The staff were so attentive and helpful the smile on their faces while inter acting with patients made a big difference specially for stroke patient like me" -Former patient
"They made me feel normal again" -Former patient
"Provided adequate therapies for needed services. Staff was very helpful and knowledgable." -Former patient
"Made training fun. Challenging." -Former patient
"Staff was great" -Former patient
"Having patience to follow with care. Knowledge to provide care for patience. Treatment team and case management" -Former patient
"Tailored a program to address my weaknesses and encourage my progress" -Former patient
"Communicated very well with me and my family" -Former patient
"The staff is very nice and welcoming." -Former patient
"Start(ed) to walk with a cane." -Former patient
"Good structured schedule- runs smoothly. Wonderful PT, OT, and ST services!" -Former patient
"You guys are amazing! And make a difference in people's lives keep up the good work!" -Former patient
March 2019
"All Pate employees were focused on what was best for my recovery and were gentle and treated me with respect. From therapists to employee to van drivers, all were wonderful." -Former patient
"They were very friendly and supportive." -Former patient
"Made the activities relevant" -Former patient
"Took care me very good. And flow my improved." -Former patient
"The food and staff were great. The rehab staff were very informative and helpful. I don't think I could have gotten any better." -Former patient
February 2019
"The treatment staff did very well in organizing my treatment program. The staff was very courteous and helpful with all my needs." -Former patient
"Food was good. Everything was good" -Former patient
"Build patients confidence/ability and provide support as needed." -Former patient
"Helped me get walking again" -Former patient
"I could not have asked for a better teacher than Mandy. She is the absolute best I have ever worked for. She has so much understanding and compassion." -Former patient
"Respect given from the therapists, techs, doctors, and managers! How the other patients would give you support and backing!" -Former patient
"They explained very well the duties I was responsible, and explained very well the duties they were responsible." -Former patient
"Kim's personal touch with my wife got her to open up and talk more!" -Former patient
"The people were very nice and very knowledgeable about my therapy" -Former patient
"Very understanding and helpful to your needs." -Former patient
"They helped me improve so quickly and the staff were very helping" -Former patient
"Timely and thorough" -Former patient
"My case manger Marilyn was outstanding amazing and very helpful my team of therapists were amazing as well." -Former patient
January 2019
"Communication with family was excellent. Kept us well informed of progress. He enjoyed the therapy and was willing to work hard." -Family member
"The treatment staff did very well in organizing my treatment program. The staff was very courteous and helpful with all my needs." -Former patient
"Kept us informed about therapy and the overwhelming of help that we received from the staff" -Former patient
"Provided a wonderful staff that worked as a team. The team never complained they were always positive" -Former patient
"Quick response when we needed it" -Family member
"I never felt like I was a burden and my case was confidential and separate from others. The focus was on the individual." -Former patient
"The staff were great" -Former patient
"Meals were fantastic! Planning and communication were on point!" -Former patient
"Treated me with respect" -Former patient
"Helped improve abilities and listened to family" -Former patient
"Picked me up from home and dropped me off safely. Returned my arm strength, 2 pounds to 30 pounds (OT). Returned my ability to walk and range of neck motion (PT). Returned my ability to eat food again (ST)." -Former patient
"Took care of all of my mental and physical needs." -Former patient
"They were very accommodating and always willing to work with me even when it came to changing when I was to go home." -Former patient
December 2018
"I was very impressed with the transparency between the staff and how the therapists were invested in my treatment plan. I also really appreciated Cliff in providing transportation services. He was great and is one of the most positive people I met. Marilyn was great too, she really went above and beyond to ensure I had a positive experience. My speech therapist Liz is really great too, she provided a lot of resources that has helped with my short term memory loss." -Former patient
"Communication with patients. Respect of the staff" -Former patient
"The activities out in the community were great. The rehab itself was very beneficial. They did a good job of helping me progress and getting me functioning again." -Former patient
"The onboarding and getting you acclamated was great. The planning that went on behind everything was great. The expertise of the treatment staff was great. You come in there thinking you know what you need, but the staff really guides you to things that you may not at the time think you needed." -Former patient
"Staff is very motivating." -Former patient
"Pate went above and beyond with patient care and anything we inquired about you did it." -Former patient
"Thank you Pate." -Former patient
"Therapy was focused. House was fun for her." -Family member
November 2018
"Some people go home every day and wonder if God is going to answer their prayers but I don't have to do that because I get to see the angels He sent me here every day." -Former patient
"Professional and kind" -Former patient
"(Pate) proactively listened and responded to my treatment preferences so that it was personalized for me." -Former patient
"Pate has been unbelievably helpful to me from beginning to me; had I not experienced it personally, I would not have believed the genuine care and support from all - initial contact personnel, techs, students in training, therapists and drivers. I really didn't want to go to Pate initially, but now I can't imagine going anywhere else." -Former patient
"All around this was a great place." -Former patient
"I think (it's one of) Pate employees' goals to make sure one is better on their last day than their first day. The the therapists are awesome...kudos to Mrs. Gale, Chrisse, Jessica and Mrs. Linda" -Former patient
"Friendly Staff. They went above and beyond to make sure I received the level of care needed." -Former patient
"Future treatment planning was excellent. Staff were very knowledgeable and caring." -Former patient
"The techs are the life of residence and treatment. I don't know what I'd do without them." -Former patient
"The staff overall was great!!!!" -Former patient
"Made me feel like someone again.  Got me moving and accepting my disabilities." -Former patient
"Pate helped to incorporate my school studies into my program. Physical therapy also did wonders for me to get me back walking better and stronger." -Former patient
"Pate employs great people that do this job for the right reasons. Pate keeps you busy and productive." -Former patient
"Allow me to work things that I really needed. Assisting me on ways to achieve my goals." -Former patient
October 2018
"Kindness and professionalism" -Former patient
"Helped me focus my attention in a more productive manner. Helped me to begin writing my goals down which assist in my focusing attention to task at hand." -Former patient
"Very well organized. Transportation was amazing." -Former patient
"Helped me hone back in on my strengths that I forgot I had, like quality of schoolwork and structure. Also helped me recognize which things that hinder my recovery like a sleep routine and practicing my new skills outside of PATE." -Former patient
"Assessed an unusual situation and formed a treatment plan that was very successful. The connection between the therapists/staff and my husband were a huge part of the success." -Former patient
"Trena is awesome and Ann is amazing too!" -Former patient
"PT (physical therapy) and ST (speech therapy) were helpful." -Former patient
"I just feel very fortunate to be here and to have made the progress I did in spite of my circumstances." -Former patient
"Keep up the good work" -Former patient
"Everything was wonderful" -Former patient
"They work with (you) a lot.  They encourage you a lot" -Former patient
"(Pate) helped me do better than when I came and (they) helped me emotionally" -Former patient
"The family conferences were awesome. Marilyn was great" -Former patient
"My rehab was very well planned and executed." -Former patient
September 2018
"(Pate) helped me out with people and they're understanding" -Former patient
"The clinical team helped me and listened to me" -Former patient
"(Pate) pushed me to limit and made me do what needed to be done..in all areas felt like I got a lot out PT..." -Former patient
"I highly recommend them. She had terrific treatment. Transportation to and from treatment was a blessing. Our driver was great. They really bent over backwards to help." -Family member
"Couldn't be happier with the treatment he received.  Cliff was great and an inspiration to us everyday. Pass along my best to Cliff and tell him hello." -Former patient
"VERY GOOD therapy" -Former patient
"(Pate) tailored a plan just for me. Asking what I wanted to achieve and making sure I attained the goals" -Former patient
"Therapists (are) very qualified and a happy staff" -Former patient
"(Pate) cared genuinely" -Former patient
"You guys were awesome!  From the time I walked your facility trying to decide which place to go, I felt so much more comfortable with PATE. Your staff and their willingness to help and always with such a cheerfulness disposition, I am so so glad I chose you guys... Thank you from the bottom of our hearts for all you do. God bless!" -Former patient
"(Pate) keeps patients motivated to improve" -Former patient
"Continuity of services between different therapist as well as Cross over of services during transitional periods was of great benefit. Open door policy for all staff was exceptional." -Former patient
"They were so very friendly and caring. They would always listen to me. I was blessed to be at Pate. Terrie was wonderful. Trey at Hilltop was amazing.The Pate staff was remarkable." -Former patient
"Pate has knowledgeable staff. The transportation program is very good." -Former patient
"Well organized, professional, compassionate and caring" -Former patient
August 2018
"We truly thank you for giving us this blessing. Thank you for not giving up on her. Without all of you, she would not have come so far on the road back. " -Family member
"We are all doing well living at home, thanks to your program. Pate did more for my son in 18 months than 3 other programs did in 18 years. We are eternally grateful for Melodee, she was so good to me and my son for 2 years. I knew he was loved and taken care of at West Campus. Your program is awesome" -Family member
"Communication with family, care given to both my husband and myself, the level of concern for my well being and adjusting to the new norm has been outstanding!" -Former patient
"Involved the family and helped improve physical and mental skills." -Former patient
"Built programs that were specifically oriented to my needs and measured my progress." -Former patient
"Communication and plan of care was done very well." -Former patient
"They treated my wife with respect and overall it is a very caring company." -Former patient
"Therapists were good" -Former patient
"I was very impressed with the overall treatment we received while we were here. Not only was the level of therapy in all areas impeccable but also the activities he was able to experience were awesome. Also each time I visited I was always greeted smiles and kindness that was above and beyond what I expected." -Family member
"Communicated well and made life a whole lot better" -Former patient
"Encouraging. Commited to my success" -Former patient
"Communication among treatment team members regarding my care was superb. I was totally amazed how in tune each member with the other facets of my care plan. Also, my treatment plan was tailored to my needs and helped me reach my goal to independent living. I am well on my way! Many thanks to everyone that was involved in my care - from meal planning, medicine distribution, activities on the weekend, transportation to my treatment plan. Thank you!!" -Former patient
"Pate was very good with listening and explaining." -Former patient
"Communicated regularly on my progress. Made sure I knew how to achieve my goals." -Former patient
July 2018
"Where do I begin? You have been my driver, my cheerleader and my friend. The last of which I'll treasure the most. There is no doubt in my mind that what you do on "Skip's Party Bus" is a ministry and you are a true blessing to all who get to enjoy the bookends of their day riding with you! Save me a seat!" -Former patient
"They truly aided me in reaching my goals. They also challenged me to not only return to my daily activities but improve on doing them." - Former patient
"Made everyone feel welcome and part of the group. They provided access to everthing I needed to help (me) improve" - Former patient
"Great communications!" - Former patient
"Listened and developed a great plan for me." - Former patient
"Care, knowledge, level of physical therapy, speech, and occupational therapy." - Former patient
"The TRILS team was AMAZING and treated me like family" - Former patient
"Helped fix my memory and prepared me for college" - Former patient
"The rehab services was good. Henry did an awesome job working with her" - Family member
"(Pate provided) comunication, transitioning from classes, relaxation. They helped a lot. The staff was wonderful. I am still working on improving my functioning" - Former patient
"Accommodated Cico training. Had something for me to do." - Former patient
"My experience there was well worth it at accomplishing and surpassing my goals." -Former patient
"The workers are all very professional and kind" -Former patient
"Happy with level of treatment in all areas especially physical therapy with Tara... Care and professionalism of the entire therapy team." -Former patient
"Kept me well informed. The expertise of staff" -Former patient
"Compassionate" -Former patient
"The sales effort was superb. Crystal did an excellent job of describing Pate without overselling it. Physical therapy was second to none. Everything was as described." -Former patient
March 2018
"Program itself sets Pate apart from anyone else in the industry. The model of therapy program is incredible as well as the quality of the program." - Family member
"The employees were fantastic and it was more than just a paycheck to them. You could tell they loved working there. You guys have nailed everything. We truly love Pate and everyone who worked with us." - Family member
"PT, OT, ST made me well prepared after discharge." - Former patient
"Very thorough. We were pleased with all services." - Family member
"They're great." - Former patient
"The staff was really invested in his recovery." - Family member
"The care they gave her was tremendous." - Family member
February 2018
"Good attention from staff and very good services from the interpreter team!" - Former patient
"The care and treatment were outstanding at both locations." - Former patient
"The physical therapists were extremely knowledgeable and were good at pacing the exercise based on (my) needs and abilities...I received the rehab I needed and felt good about my time here. I am very happy with the attention to me." - Former patient
"Everything was good." - Former patient
"The therapists were great and felt good about including my opinion on my treatment plan. I never felt told what to do; instead I felt my opinion mattered. The staff at the residence was very caring." - Former patient
"Gave me such positive hope for my new future.  It brings a sadness in me to be through. I will miss the relationships I formed (with) everyone." -Former patient
"The facility was very neat and clean. Everyone was very nice and cared about what they were doing...overall I just want to say thank you. I would give you a 9 out of 10 rating." - Former patient
"I appreciate the assistance you provided me with this case.  And I must say, you guys do a job which no one can tell you how much it is appreciated.  I know my father was in the care of a rehabilitation facility in central Texas several years ago and if not for the people taking the time to work with and care for him, he would not have survived the years he did.  I expect you get a lot of satisfaction out of your results but I know the patients and families you affect can never express enough how much your work means." - Case manager
"Speech and physical therapy were amazing. They focused on me and what I needed. They prepared me to go back to work...great aides and my van driver was great. I feel confident in my abilities because of them." - Former patient
"Professional service." - Former patient
"Made me feel at home as much as they could. They listened to my goals." - Former patient
"Paid close attention to all my cares and concerns. Always had such positive attitudes and great guidance...everything was phenomenal." - Former patient
"Transportation, therapy, kindness, helpfulness of all involved in my Pate experience." - Former patient
"Everybody was really nice....made me feel I was part of a family." - Former patient
January 2018
"Everything was perfect. Everyone in treatment was great. Therapy was done very well. Everyone was so nice, compassionate and friendly to my dad and our family." -Family member
"The treatment was awesome. They really tried to make her better." - Family member
"The communication was great. The personal assistance was helpful." - Former patient
"They took great care of my wife. They went above and beyond my expectations from day one.  From the first day to the last day of treatment there was a night and day difference." - Family member
"The staff had patience and they genuinely cared for all the patients. They are really passionate people and that goes a long way...I was satisfied all the way around." - Former patient
"Everything at Pate was awesome and a big thanks to the therapists and techs. Great staff." Former patient
"The rehabilitation was very good and has helped me out immensely." - Former patient
"The employees made my time there enjoyable." - Former patient
"From my experience the staff is awesome and very helpful. Raises all around!" - Former patient
"Great people and very accommodating." - Friend of patient
"The staff is phenomenal....I am so confident in leaving in great hands. Please express my gratitude to all staff and office people that worked to get her here. Eternally grateful." - Family member
December 2017
"PT team was amazing. As well as speech and OT." - Former patient
"Thank you all for a VERY pleasant rehab experience. May God bless you all." - Former patient
"The staff led with their hearts and you could tell they geniunely cared." - Former patient
"Therapy was great...thank you for all that was done for me." - Former patient
"Kept me involved in planning my treatment and focused on my goal! Also took a personal interest in me and my well being...this is as good as it gets I believe." - Former patient
"Positive attitude and encouragement; helped me keep the eye on the prize at all times...I am full of gratitude and hope thanks to the perseverance of everyone here. I feel I have been part of miracles and I am one of them. I am forever grateful." - Former patient
"Encouraged me and pushed me kindly when I was unsure of my ability to move on...I have been provided with excellent advice, websites, and the invitation to call or email if I have questions or problems transitioning back into real life. I am very satisfied and blessed to have had such an excellent team of therapists." - Former patient
"I wanted to say THANK YOU!!!! Thank you to everyone, this is the result of your amazing work with him. His practitioner said there is a 5% success rate for hip disarticulate patients to walk again, he is in that 5%. My heart is bursting with joy. "- Family member
"Very patient centered." - Former patient
"Pate is very helpful and the individual therapists work very well with patients and are very compassionate in their work." - Former patient
"It is truly a blessing to have Pate help." - Family member
"They listened from day one to what my goals were and all my therapies directly related to my goals. They educated me on brain injuries (specifically stroke, which was my type of brain injury) and helped me understand what to expect in terms of how I would be healing and how it would be different from healing from a purely physical injury. They addressed mental and emotional aspects of recovery with counseling, process group, relaxation group and visualization groups. I had no idea these would be part of the program and found them to be very valuable." - Former patient
"They helped a lot with physical therapy and speech. Overall the whole thing was great." - Former patient
"Pate provided extraordinary services." - Former patient
"Extremely helpful in helping me gain back a good measure of independence physically and mentally. I consider myself a bit high maintenance and they helped me resolve many of my day to day issues and needs, taking time out of their personal schedules to deal with my day to day needs that were important. Therapists and case managers were nothing short of amazing!!" - Former patient
"Communication was excellent. Did everything they said they would do." - Former patient
"Caring for the patients, letting us know what is needed for recovery, and doing everything possible for us to progress in recovery." - Former patient
November 2017
"I just wanted to thank you for everything you did for me. It's hard to put into words because it was such a transforming experience. I barely know where to begin. I owe you all so much more than just a card, but I hope it will give you some idea of my immense appreciation. I am writing this to you with my right hand, which I could not use at all when I arrived at Pate. Now I can write, I can walk, I can speak clearly. These are all great accomplishments for sure, but thanks to all of you, I know that it's just the beginning. I plan to fully recover. So look out for me. I'll be back to visit…on roller blades! Thanks and love and peace and blessings." – Former patient
"Kept me on track so I could achieve my goals." – Former patient
"The staff was always very kind, supportive and passionate. Everyone is motivational and they pushed me, but they pushed me in all the right ways; it was a good challenge." – Former patient
"The people were friendly and very engaging, you can tell they truly care about their patients. The staff was very encouraging, helping him to work hard to improve." - Family member
"Compassion and adaptability to my specific needs...when my shoulder froze, they sent me to the correct physicians and changed my treatment. It would be hard to say they could do anything better than what they do! I came here broken, poor speech, and non-functional right arm. Now I can speak intelligibly and my right arm is improving weekly. I stand ready to re-enter the world!" - Former patient
"(Pate) helped my balance and strength. Also made me feel that life goes on after stroke. Very satisfied with my Pate experience. Don't know what I would have done without Pate. Thank you from the bottom of my heart." - Former patient
"Paid me a lot of attention and very concerned." - Former patient
"They were very friendly and encouraging at all times. They are the best people working at Pate." - Former patient
"Professionalism and absolute care for me. Great staff in all departments. Thank you!" - Former patient
"Compassion and patience." - Former patient
"They fulfilled what they promised. They gave me hope, strength and knowledge. They taught me how to redirect or rewire my brain. With their support and determination, I was able to get close to my goal." - Former patient
"We thought they did well in all aspects of our son's rehabilitation." - Family member
"I'm still at awe over the progress she made at Pate. You guys gave us our lives back. Your therapists and her proved all the doctors wrong. Her neurologist can't believe the progress she made from when she started at Pate and when she ended. She's also surprised at the progress she is still making...we miss you guys." - Family member
October 2017
"When I chose Pate for his care I thought it was a good decision, I was proved right...the Pate team rules!" - Family member
"All needs were met or exceeded." - Former patient
"Friendly staff made it fun. They made me want to come to therapy. They made it feel not so clinical." - Former patient
"They made sure they had my personal interests taken into account...they were on point with treatment. They were very thorough. I really enjoyed my stay with y'all. You guys hit a home run." - Former patient
"The staff seems to really care about their patients. He loved Pate. It was like a family. Overall it was a great experience. I did appreciate the family support. I recommended Pate to a friend." - Family member
"I really enjoyed joking around with the staff. I enjoyed the Sanet program." - Former patient
"Helped me get back to work." - Former patient
"Made the patient feel at home." - Family member
"The staff was extremely knowledgeable and caring, especially at West campus. We could not have been more satisfied with the compassion, patience and love they showed our family member during the stay...thank you for a great overall experience." - Family member
"Staff was very friendly and helpful. They helped me regain my confidence and speaking very well." - Former patient
"Thank you so much to each of you for the love, care and compassion you showed to him during his stay here at Pate. Some days (and nights) were a "bit" challenging but you overlooked that and loved him through the hard times. We will forever be grateful for each of you and your dedication to your patients." - Family member
"I really appreciate all you all do for him. We couldn't asked for a better place for him.. and we were talking about Pate at the barber shop Sat. and everyone there had heard of you guys or had someone they know been there and were talking about how great it is. You all really made such a difference in people's lives. I know that if we had known about you all when he had his stroke in 2015 he'd have been up walking and moving and going more than he was with what he had to work with. Thank you again so very much." - Family member
September 2017
"Attitude of all staff - always had a smile. They try their best always to help with anything." - Former patient
"They had a lot of patience with him. They were great at encouraging him to reach his goals." - Family member
"Everything was awesome. I give everything a thumbs up. I don't have one bad thing to say about Pate. The communication with staff was great. Everyone played a part and made me feel motivated to do what I can. Everyone was so helpful...they all need a raise for the awesome job they do." - Former patient
"They were wonderful. I would refer Pate to anybody. The biggest thing is the people there. They are very nice, concerned and would provide a shoulder to lean on." - Former patient
"Truly there are angels among us! The staff is amazing, remarkable in what is asked of them daily. The care and compassion observed will stay with me. You are all Gods hands, eyes, and feet and make a huge difference in all seeking recovery. Your kindness is noticed and appreciated." - Patient friend
"Thank you so much for everything you have done for me at Pate rehabilitation. I entered with one of the worst experiences of my life and left having one of the best experiences of my life. I was at first impatient when told I needed more rehab. But what I walked into was a virtual college helping me to get back to my life. I was deeply touched by the giving spirit of every individual at Pate. The information imparted to me by the staff has been invaluable, as has been the advice they have given me.... I want you to know that your work is helping people and is making a difference in people's lives. It sure did mine." - Former patient
"Everyone was VERY positive! Made me and my family feel very comfortable." - Former patient
"(Pate employees) went above and beyond their job description to assist in transitioning to Pate and communicate about progress. " - Family member
"The staff was remarkably nice." - Former patient
"They fostered independence and confidence as well as safety." - Family member
"They prepared me well to walk. Cognitive therapy did an excellent job." - Former patient
"Everything was good. They did everything well. He liked everybody and all the outings. Enjoyed going to the baseball game." - Family member
"You were my driving force, not letting me to give up. Pate helped me to get back on my feet so quickly!" - Former patient
"I am so grateful for my time with y'all and everyone at Pate." - Former patient
"My son's case was special. They worked diligently to cater to his needs and customize the right program for him." - Family member
"They did a wonderful job. I loved it. I love the people. I saw the love the employees had. I give them a big thumbs up." - Former patient
"Pate was very good at caring for patients' needs and talking in understandable language." - Former patient
"They were always there for you. Support, education, improvement techniques, encouragement, attitudes. (They were) positive, nice, uplifting, caring. Communication was great. Helpful and helped take stress off patients in this difficult time." - Former patient
"Understanding and compassionate. Everything works smoothly at Pate. I want to thank you for everything. You all helped to assure me that life will continue to improve. I survived a stroke thanks to all of your help. I love you all!!" - Former patient
"On behalf of my mom, thank you. You were a tremendous asset to her recovery process! Thanks so much to the Pate program! Highly recommend y'all's program for anyone with brain trauma injury. By far one of the best places in the country." - Family member
"Therapeutic exercises were well chosen and well executed. Therapy team is professional and empathic." - Family member
"They kept him wanting to get better. They made him smile again. They are the best!" - Family member
"Gave me the tools to function well. Got me back to a normal schedule." - Former patient
"All the therapists were amazing. Loved my time there. Thanks for everything." - Former patient
"Communication was excellent and the staff was respectful, kind and caring. Also I appreciated the optimism and helpfulness of everyone. Thank you for helping my son find hope, ability and happiness after brain injury." - Family member
August 2017
"We were very pleased with the care our Mom received and the communication Pate had with us...and were very helpful in every area involving our Mom's stay at Pate. I love the fact that we continue to have Pate there for us if we ever have any questions or need advice concerning our Mom, even though she is no longer a patient there." - Family member
"They helped show me that I had the perseverance. I greatly appreciated their willingness to help with paperwork. It made everything so much easier. The staff was awesome." - Former patient
"I will forever thank you." - Former patient
"Very helpful in helping me improve my cognitive skills. Taught independence." - Former patient
"All of you have made an incredible difference in his life and the lives of all of his family members. All of your vigilance and hard work with him has gotten him much further than anyone ever expected him to come. His neurosurgeon could not believe he is still alive and said he has no idea how he could follow any commands or hold a little conversation with him (both of which he did yesterday). On behalf of all FITT family members, I can confidently say you all do the most extraordinary work and everyone should sleep soundly at night knowing that you did the most wonderful job for many people today." - Family member
"Thank you guys!!!! Everyone has been awesome, thank you so much for everything you do for all of these guys. She tried to leave all the time but she loved it here." - Family member
"I can never say enough about Pate. Y'all saved my life, as far as I'm concerned. All God's blessings to you!" - Former patient
"(You) helped me get back to myself." - Former patient
"They always communicated with me and worked very hard with her." - Family member
"They explained assignments really well and made the process very smooth." - Former patient
"Excellent staff and therapists." - Former patient
"Got me to walk and use my right arm. When I arrived both were useless and now enable me to do things. All of my therapists knew what they were doing, led me in the right direction, and cared for me (not as a medical person) but as a person." - Former patient
July 2017
"Pate has changed my life after my accident. There was no hope for me to even survive, and after surviving that, there was still no hope at building my brain back to how it was before. Pate has completely improved my recovery and in all of the ways that have been possible. Both FITT and TRILS have moved me through, OT, PT." - Former patient
"Always made me feel important and welcomed." - Former patient
"Pate made me feel like a person again. After my accident I was feeling really depressed. They instilled in me that I could do it and helped give me the determination. I really appreciate everything Pate did for me. I am back to work and doing everything I did before. I love my Pate." - Former patient
"Had knowledgeable therapists that communicated well and generally educated me. They did a good job of checking with me to see if I had questions or concerns." - Former patient
"Therapists were very professional. I was very pleased with everything." - Former patient
"They make activities fun." - Former patient
"We had to fight to come to Pate and I am just so happy we won because we met the goals we set. It is just amazing to see him drive himself to Pate." - Family member
"Therapists were knowledgeable, friendly and took a personal interest in each patient. The counselor was trustworthy and effective in working through emotional issues." - Former patient
"They treat each patient as an individual, adjusting plan and expectations accordingly." - Former patient
"Pate helped me walk again and strengthened my outlook on my situation." - Former patient
"Friendly staff became family." - Former patient
"They treated my mom like she was their own mother. Great communication with family."  -Family member
"They did everything well. They were very caring and motivating. The therapy team were just angels." -Former patient
"The level of expertise and compassion I have not seen anywhere else in a medical facility. Case management did awesome with taking charge and making sure everything was done well with the disabilities paperwork. They gave me my husband back. I love what you guys do. You all are amazing and I just want to express my joy and gratitude for all the help they gave." - Family member
"Communications and compassion for real life situations. The family was always kept in the loop and never had to worry about the level of care being given. Our entire therapy team and case management was amazing...they were so kind, caring and awesome. Emails were answered at all times of the day and night. I can't imagine there are too many rehabs out there that make sure the father is at the hospital for the birth of his child, and it's these touches that make Pate so special!" -Family member
"They helped me improve physically and emotionally." -Former patient
"They are awesome. I'm so happy I'm not in a wheelchair anymore and can eat regular food again! I could go on and on, so many people, so little space." -Former patient
"They helped me get used to distractions and function in them. They are always on time and stick with the schedule." -Former patient
June 2017
"The employees at the rehab center are world class. The staff was absolutely incredible. Our case manager Dena was world class. They communicated very well. I would use the rehab center again." - Former patient
"They helped my memory get a lot better. The staff was extremely helpful." - Former patient
"Staff treated me with dignity and kindness." - Former patient
"Supplied good solid moral support when needed. I was communicated with very well and found the monthly appraisal meethings very very helpful and enlightening." - Family member
"I was very satisfied with PT and OT. The love and care they put towards my wife was awesome. So please with everyone there; it was incredible. I loved everyone's attitude." - Family member
"Todos estaba bien...everything was good." - Former patient
"The care from the staff at Whitley Place (Watuaga/Ft. Worth) was great." - Former patient
"I love that each therapist gave me a customized regime according to my needs. Great group of genuine people." - Former patient
"Pate communicated with me very well. They took the time to get me back to where I needed to be. They got me back to walking. They worked very well, the OT, PT, and ST. I was very happy to be there and had a good time the whole time I was there. I am very impressed with the whole organization." - Former patient
May 2017
"Very friendly and very good service." - Former patient
"They were very attentive and passionate with the caring of my niece. Everyone was very dedicated to doing their job well." - Family member
"Staff in physical therapy was very knowledgeable and very adaptable. Your staff is phenomenal and you run a great facility. They treated him very well. They were very supportive. We had been to 4 different facilities before Pate and you were the first guys to offer that family support. It was awesome to have that support and I am very appreciative for that." - Family member
"The whole experience really was truly amazing! I want to express my gratitude to you...what he was able to do and to experience at the camp is a testament of the incredible work that each and every one of you have done with him! Every moment you spend with him, every skill that you teach him, every time you encourage him and every single time you work with him brings him closer to a fuller, more productive and enjoyable life after brain injury. You guys are simply the best! PS - and I am oh so grateful for the three nights of uninterrupted sleep!!!!!!!" - Family member on patient camping experience
"We appreciate all that you and your staff did for him. Friends from work came over yesterday and they visited all afternoon at his place, he enjoyed their company and seemed more at ease during the short time that we were there. Please let the therapists know how much we appreciate them. Although I know he feels grateful, I'm not sure he conveyed that message to them. I'm happy that you will be checking on him in the future and you can be assured that our family highly recommends Pate to others." - Family member
"The treatment was excellent - caring and knowledgeable. Excellent therapists." - Former patient
"(Pate staff) treated us with respect. They involved us in what we needed to do." - Former patient
"Dallas (location) provided excellent services for my husband. He was extremely happy to go every day to this place. He loved people, activities, everything!" - Family member
April 2017

'"Because of my rehab at Pate I feel I was well prepared to move forward with my recovery. Again I marvel at the superiority of Pates program & staff, Pate has all rehab areas covered. " Please share my quote enclosed remarks via email to staff, from my Heart. I plan to visit you all in appreciation when I can." - Former patient
"Awesome therapists and staff." - Former patient
"Pate is excellent. Overall Pate is a wonderful place." - Former patient
"They went out of their way to make you feel comfortable and help you understand everything." - Former patient
"I highly recommend Pate. All of their therapists are experts in their field. They were all very good at what they do." - Family member
"Really I can't think of anything Pate needed to improve on. They were that good." - Family member
"The team was extraordinarily kind and giving." – Former patient
"Everything was great." – Former patient
"I am pleased with his progress. I know he is ready to come home but I'm still encouraging him to follow your program and keep improving. Please pass this on to all the therapists. They are doing an amazing job and I appreciate all everything they are doing with him. They need to know how they affect people's lives and because of them he and others can live an independent life." – Family member
"Exceptional therapists and caring staff. I am very thankful to have been involved with Pate." – Former patient
"They were caring and compassion. They helped motivate and were very understanding with patients." – Former patient
March 2017

"Pate gave me confidence and encouragement. I'm totally ready to face the world. If I was a dog, my tail would be wagging!" - Former patient
"Pate is the TOP of the line in patient brain injury rehabilitation. Keep up the good work!!" - Former patient
"They got me better and back to work." - Former patient
"I really appreciate everyone at Pate for telling me what I COULD do, and not what I couldn't do. That's what spurred me on. The help and support and love I received at Pate really encouraged my ability to do what I know I can do. Your program is amazing and without exception, the staff you have executing your program is wonderful! Believe me when I say I plan on being y'all's biggest cheerleader." - Former patient
"They got me back to doing so much better. I am very satisfied with my time at Pate. I came to Pate in a wheelchair and I left with a cane." - Former patient
"Very good and professional therapists. Anna inpatient housing was fantastic." - Former patient
"Pate helped me learn what I needed to do to heal...provided a wide range of support services and therapies. There are some truly good, caring and knowledgeable people on the Anna team." - Former patient
February 2017
"They treated me with respect and as a person, listened and educated me. Staff was awesome. I am completely satisfied. Upon being discharged I was sad that it had come to an end."  - Former patient
"They showed love and respect and helped me get my life back and self worth. This experience changed my life. Wish you would hire former patients as I would love to come work for Pate and help people!" - Former patient
"Love the transportation and my driver was great. The attitudes and demeanor of the therapists and assistants was outstanding." - Former patient
"Thank you sooo much for your assistance. It was so nice to see all the familiar faces who helped me tremendously during my therapy there at Pate. Continue the great work! I'll stop by to say hey every now and then. Ever grateful…." - Former patient
"Thank you and please thank the staff for all the help they provided during his recovery." - Family member
January 2017
"Pate worked very thoroughly getting her back to her old self." - Family member
"Overall attention was excellent and very encouraging to my sister." - Family member
"I was injured a year and a half ago but didn't come to you all until a year after the accident. I wish I had come to you sooner. Everything was very good. Loved how it was an all day thing. Loved all the activities and socializing. I enjoyed going there and interacting with all the people. The driving services (transportation) were perfect. They made it possible for me to go. I just want to let you know that everything was really great and I wish I could still go." - Former patient
"When he needed someone to talk to they were there. They were very understanding about tailoring his program to fit his needs and flexibility. His nurse was fantastic." - Family member
"I felt cared for physically and emotionally." - Former patient
"Thank you all for your hard work and guidance this year. I could not have done it without you. I have progressed so much over the year and I am so appreciative of your care. Although it looks like I will not be able to get back to work, I know I have worked very hard with your guidance and I am a much better person for it. You all do a great job…thank you again so much." – Former patient
"The staff is well trained and very empathetic." – Former patient
"Everything was excellent. The therapists were excellent and tailored the plan to his needs. Pool therapy was also a nice benefit. His time at Pate was incredible and we are grateful for all that was done by everyone on his path to recovery. We got our boy back and could not be happier with the services Pate provided. Thank you!" – Family member
"Exceeded all expectations. Wasn't supposed to ever walk again, use right arm, or speak again. Can walk with a forearm crutch, can use right arm some, can speak some but still need more improvement. I don't think they can improve on anything. The place was great." – Former patient
"The therapists were great and every one of them were wonderful. The therapy and work they did to improve her vision helped so much!" – Family member
"They helped me a lot with my speech and with occupational therapy. Occupational and physical therapy helped me get back to driving." – Former patient
"Your passion for your job is admirable. This was such a surprise situation and her and I know you did everything humanly possible to get (her insurance) to continue coverage. We are thankful that she will continue to receive her rehabilitation at Pate." – Family member
"She enjoys her time at Pate and it shows. In fact, she has recommended we spend only one day out of town next week so she can have a couple of days at therapy next week. Please forward this message to her team – they deserve some "independent" recognition. They, and you, are an important part of our life right now and we both genuinely appreciate the efforts. While it might be their and your job, you still deserve to be reminded of the amazing impact you're having on this situation and we thank you from the bottom of our hearts." – Family member
"Pate treats their patients with the highest level of care possible…all was great!" – Former patient
"Our case manager did a wonderful job coordinating and communicating needs with his therapists and kept me updated. She worked hard to extend services and get pre-auth from insurance and went above and beyond helping my mom through the process. The therapists worked well with him and showed compassion and understanding." – Family member
"The Pate staff was wonderful and helpful the entire time. Such caring and dedication that goes beyond a "job." – Family member
"PT and OT therapists were very strong and communication was great." – Former patient
"Taught us all how to handle real situations. Woke up all areas of our brain. I have bicep muscles! I'm 54! Never had them before." – Former patient
"I loved my experience at Pate! Thank y'all!" – Former patient
"They did a great job in every aspect." – Former patient
"Pate Rehab's entire dedicated, enthusiastic staff have done an extraordinary noticeable job, helping my sister improve her life skills and overcome paralysis from stroke. In addition I have had the best case manager ever! Thank you!" – Family member
"The people at Savanna Ranch living quarters were very nice and very caring towards him. Rehab people were very sweet." – Family member
"They allowed me to grow, to walk, to really try to do it. I was able to have some control in my progress. They let me be involved in all different types of rehab including special groups and trips…I would love for the staff to get all the credit they deserve." – Former patient
"Feeling of kindness and level of involvement of the whole staff." – Family member
"Good full time staff, well trained and effective." – Former patient
"I love you guys." – Former patient
"I realized that I had come full circle!  Thank you for being such a vital component in my recovery…" – Former patient
"I am so pleased at the progress I have witnessed.  It is nothing short of miraculous." – Family member
"I really appreciated the effort/support the team provided to my sister, I have seen a huge improvement. Thank you!!" – Family member
"The treatment staff is more precious than gold to our family." – Family member
"The staff and all personnel at Pate are wonderful!" – Family member
"We were very happy with Pate, they helped my husband get better….they treated us like family rather than patients." – Family member
"I recommended Pate to several people already. (Pate) Educated me and they showed they understand what she's going through. That's a lot of the battle right there." – Family member
"All the staff were great." – Former patient
"Treatment teams were wonderful. Treatment plans were perfect for my needs. Thanks to everyone who helped me through a very difficult time. You all are very much appreciated!"- Former patient
"Very pleased with the treatment offered at Pate." – Former patient
"Over and above to make sure improving health was achieved." – Former patient
"You guys did awesome." – Former patient
"Very fun experience." – Former patient
"The staff at residential and (Ft. Worth location) were super caring, you could tell they genuinely cared. Thought the fact that you all had a program specializing in brain rehab was awesome. You guys are awesome." – Former patient
"All the staff were responsive and polite. They took my concerns seriously. Communication, personalizing the treatment. Every instructor showed compassion, concern and cared…they made it a pleasurable experience." – Former patient
"Kind people at Pate, it is with great relief and pleasure that I send the final payment for my husband's rehab. I have to thank you for being extremely patient with us. Your care for him during his ordeal made a big difference in his overall recovery….Thank you, thank you, thank you for your professional care and your kind and caring business office. God bless you all!" – Family member
"The care she received from your organization was great…I will recommend your company in the future!" – Family member
"The staff were all angels… I loved going to Pate. Every day was so special to me." – Former patient
"They communicated very well with us and listened to me. They had a plan and stuck with it. They kept her interested and encouraged. They gave me my wife back. I really don't have anything negative to say. They were a little bit of sanity in a world of insanity and I just want to say thank you." – Family member
"Pate really helped build (patient) back up. We really appreciated the counselor being there to help air out my feelings as I'm going through the process. Family members don't always understand what you're going through and the counselor was so helpful. Transportation was very helpful. I really appreciate the family conferences and them taking the time to print out notes to give after the family conferences. Pate helped us tremendously." – Family member

"Very friendly, helpful and understanding." – Former patient
"I liked everything. Thank you very much." – Former patient
"(Pate) paid attention to detail. They listened to what you had to say. It was very attuned to your problems." – Former patient
"I do not have enough wonderful things to say about my mom's team. I know she is a very difficult case and everyone worked so hard to help her. We are very pleased with all of the staff and the progress our mother made while in your rehab." – Family member
"Thank you Pate! We owe you a debt of gratitude that we will never be able to repay. Thank you for taking us from "what in the world are we going to do" to navigating our new normal. You have done so much more than rehabilitate [patient name]. You have embraced him and our family completely, giving us skills that will last a lifetime." – Family member
"Thank you everyone. Thank you for helping me take charge of my recovery and giving me aid that will last in the long term." – Former patient
"We are so thankful and grateful to the entire Pate Rehabilitation Staff for a job done that is far beyond & exceeds expectations!! We say thank you from the bottom of our hearts for the passion, energy and heart you put into all of your patients but especially this one. Pushing him while caring for him is key to helping him find his "fight"! You did that and he in turn has pushed himself more and more each day. Blessings! Thanks! We will miss your cheery selves…" –Family member
"I think what your therapists have done with her is nothing short of a miracle." – Family member
"So glad she's been able to go to Pate for so long and improve so much. Every extension you've been able to get her…has resulted in nothing but more major steps. Thank you!" – Family member
"You all are the best. I wish I had brought her here months earlier." – Family member
"You and the rest of the team have been so supportive to me and my family during our experience. You have always been very creative and attentive to my specific needs." – Former patient
"Pate works miracles and I tell everyone about you. I let them know that if they ever know anyone with a stroke or brain injury that they need to go to Pate. I'm saying it from my heart when I say they are miracle workers." – Family member
"…When he came to Pate, he was partially blinded. His vision is not perfect now, but much better. He had so many friends at Pate. Techs, patients, everyone was a friend." – Family member
"(Pate) showed a high level of compassion and caring." – Family member
"My injury affected my speech, so my speech therapist was amazing. I also had trouble walking and my physical therapist was great." – Former patient
"I can sleep and have peace knowing he is safe and well cared for by Pate's staff." – Family member
"Thank you and your staff for all of your help. (He) learned so much from you all and it gave him a new sense of strength and confidence that he did not have before. Have a great day and thank you again." – Family member
"First thing, I would like to thank the men & women on all the teams for everything they did for me. Without y'all I couldn't have made it this far…second thing is the way the teams communicated back and forth about the patient so they were on the same page as far as the rehab was going and where that person needed a little start. Pate Rehab is by far the BEST!!!!- Former patient
"…Pate provided me with very knowledgeable and professional therapists and other staff personnel who challenged me daily to ensure that I met all my goals…all were totally vested in my full recovery so that I could return to my life. Pate provided me with an inviting and nurturing environment where I felt comfortable coming to daily because of its tone and tenor. I am forever indebted to Pate." – Former patient
"… Please tell the team my family and I thank them from the bottom of our hearts for all the work they have done. I know it is their job, but it means so much to us that our mother has progressed these past months. We really see all the hard work my mother and you all have done…thank you for everything!" – Family member
"[Our family member's] insurance case manager wanted everyone to know that she has been very impressed with her progress at Pate. She said it makes her so happy to read the clinical reports we fax her. She loves to see all of the gains and she said she can tell Pate is a wonderful place with excellent therapists." – Family member
"Thank you for everything you and everyone there did. We really appreciated everything you guys did through all this. Will miss talking to you!!" – Family member
"I am looking forward to this time, so I can use the valuable life skills and information I learned from the skilled staff. I genuinely feel like a new and improved me. For whatever reason I feel my maturity level has increased, and I feel better physically since I do not smoke. I have desired to use my passion for cooking to eat a more healthy diet, and to include exercise in my lifestyle. I may possibly be taking a new career thanks to some vocational learning I will be taking. I honestly feel the sky is the limit, and the rest of my life will benefit from the many efforts of the Pate staff, and from my determination. The future seems bound with endless possibilities thanks to all your hard efforts. A thank you did not seem to do the job so I had to write this. Thanks! From the bottom of my heart." – Former patient

"I was very impressed with Villa Creek. All the staff were helpful. My case manager was so wonderful. With the paperwork, insurance helping with resources, she constantly went above and beyond. My driver was wonderful, pleasant and polite. He made my mornings and evenings much more enjoyable. Overall the Villa Creek staff were very wonderful." – Former patient
"Helpful in getting medications filled even when insurance stopped helping; they found coupons, too. Transportation helped a lot too. Therapists were all very nice, homey and kind." – Former patient
"Great customer service and communication with family." – Family member
"They helped me to walk and use my arm again….they (gave) me hope where I had none. It was hard but they helped me through it all. These people are so much more than your therapist, way much more, from the drivers to the cook it was a great honor to be with them all. Thanks you wonderful blessed people…" – Former patient
"Communicated with respect and understanding…all staff were professional, caring and trying their best to help." – Former patient
"Please thank all the staff for their passion and treatment. Your driving program is great and one of the biggest things I heard from patients." – Former patient
"Constantly challenged me in creative ways and always included me in decisions about my treatment." – Former patient
"All the therapists worked extremely well together helping all the patients in a positive, professional and upbeat environment." – Former patient
"I am doing well and have returned to work. My neighbor had a stroke and I am doing everything I can to get him to Pate. I miss that place. I didn't want to come initially and only gave them 2 weeks. Once I had been there two weeks I realized they had a lot to offer. I stayed four months, worked hard and it was well spent, all due to Pate. Pate was wonderful. Thank you." – Former patient
"My physical therapy was amazing and the same for cognitive therapy. It was outstanding!" – Former patient
"Thank you for everything. Blessings." – Former patient
"The attention given to me was the best. All the personnel there are very professional. I felt that I recovered very quickly in physical, speech and occupational therapy." – Former patient
"To all the staff at Pate – and especially to the team involved in his care: Thank you, thank you, thank you! These few weeks in your care have been incredibly positive ones for him and for myself. When we began this Pate chapter of our journey, he was feeling depressed and hopeless. You gave him challenges to work through and goals to strive for. You provided a stimulating, positive environment to work in. And he brought all of that home with him. He is sad and worried about facing his days without Pate, but I think that he will be able to persevere as we move on to the next chapter – Hitting the road! We'll keep you posted!  With much appreciation." – Family member
"Pate kept you involved and made you feel like a family instead of a patient." – Former patient
"All the help and guidance you've shown me is appreciated more than you know. I hope your lives are truly blessed, as you deserve. Thank you for everything." – Former patient
"Two things that Pate did very well…the respect shown to me by staff. The daily activities were fun and beneficial." – Former patient
"The way they line everything out was very smooth. They got the best out of the program. The people Pate hires are amazing. They handle difficult situations very well. I was flabbergasted at how good they are. They push it, but that's part of the game. I know I'm missing people still." – Former patient
"I came from (another facility) to Pate and it's like night and day. (Other facility) does a great job at seeming like you're doing a lot, but it's mostly moving around. I also went to an outpatient rehab. Pate was hands down the best!" – Former patient
"Everyone is very great at helping you work on your personal goals. Great, helpful and positive personalities everyone had. It helps to make your studying treatment days better and more exciting at heart." – Former patient
"I can't believe how much she can walk now…  Pate has been amazing and has exceeded all my expectations." – Family member
"Thank you for chauffeuring me around today in my quest for post-Pate living accommodations. You made an otherwise dreary task fun and memorable. You are truly a therapist extraordinaire. Please thank for me all of those at Pate who set the wheels in motion to allow me the opportunity to get out there to begin resuming a normal life. Cheers!" – Therapist thank you card, former patient
"They helped my wife a lot and even if she couldn't make it in person, they were able to help her over the phone."  – Family member
"My therapist made me feel comfortable and pushed me beyond what I ever thought I could do. He understood my problem and what to do." – Former patient
"The treatment team was very nice and worked hard for me. The people behind the scenes really helped with outside resources. My driver was really good, too. She arrived on time and always drove calmly and safely. I know I couldn't remain that calm in the traffic. I really like going to the garden and getting out that way. I got the satisfaction of even pulling some of my vegetables after watching them grow…it seemed like they were there for the people rather than the paycheck. They really cared for the people." – Former patient
"They were attentive about getting you where you need to be. This motivated me to work harder. They were concerned about your well-being. The garden trips were great." – Former patient
"I wouldn't go anywhere else. Thank y'all very much!" – Former patient
"The service was outstanding. Wonderful staff." – Family member
"Honestly Pate is a well-run facility – the employees are enthusiastic about what they do and it translates to patients, which makes it easier to feel accepted and we all had a family like atmosphere among patients making it easier to deal with our own disability." – Former patient
"Enjoyed therapy. Housing was nice." – Former patient
"Truly cared about me getting better rather than trying to make $$ out of this. Therapists were very competent." – Former patient
"Informed me about the WHY of recovery procedures practiced during therapy process. Staff of therapists were very attentive and pleasant to work with." – Former patient
"Staff was wonderful, can't help but connect with staff." – Former patient
"Therapy staff was very good." – Former patient
"Respect and kindness of the staff." – Former patient
"All the staff was wonderful – they acted as if like they actually liked their jobs unlike the skilled nursing facility we came from where most of the staff acted like they hated their jobs." – Family member
"PT and SLP services were excellent. The music therapy serviced was also an excellent addition. Daily group movement was very motivating." – Former patient
"Well-organized treatment according to my needs. The positive attitude was fantastic." – Former patient
"Thanks for everything! I love ya!" – Former patient